---
ELEKTRON FORGE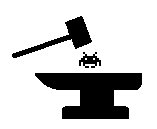 Specializing in (but not limited to!) Space Invaders and Space Invaders Deluxe PCB repairs
---
STATUS UPDATE: Hi Folks, my day job still has me traveling an awful lot and working late hours. There's no sign of that letting up in the forseeable future. There just isn't much time left to work on board repairs and fulfilling orders. For now we're taking on a very, very limited number of new repair projects. Feel free to contact us, but I cannot predict how long it might take to get a response. The long term plan is to keep the business open, but for now it has to be put on the back burner. The curse of a successful career I guess.
---
Site updated 4/26/2016.
Note: Website is crappy by choice, not lack of ability.